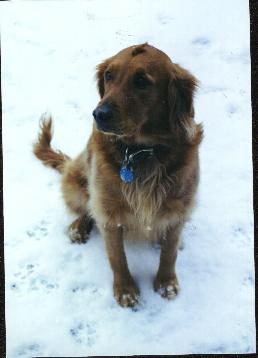 This is Sam


Sam's AKC name is Lady Samantha Golden Love. Sam was only one year old here. She is seven now. Her parents were both champions in agility and field competition. She is very smart and can do a lot of tricks. When she was only 5 months old, she was sent to a training school for two weeks. After returning home, she knew several commands and could heel well. Sam is always on a diet. Golden Retrievers tend to gain weight and so her Vet suggested that she stay on a diet of Fit and Trim and get a lot of exercise. For the most part, this works. But in the winter she tends to gain five pounds or so. When she can get out more, in the spring, she loses it.
Sites for Dog-Lovers
Pets Welcome:
Pet Friendly Travel:
Golden Retriever Puppies:
Celebrities who own Goldens:
Dog-Lover's Guide:
Golden Retriever Club of America:
Fashions For Dog-Lovers:
Breeds:
All About Goldens:
Information on Goldens:
Vacationing With Your Pet:
Dog-Friendly Hotels:
Dog Parks Across USA & Canada:






POETRY FOR DOG LOVERS

"Theres's always Room For One More"

I see by his coat he must be a stray,
The untidy look gives him away.
He's lost his will and is so thin, I know as I coax him through the door
There's always room for one more.

The other night in the freezing rain,
That little female came again.
Matted and soaked, crying in need,
Lost and alone with babies to feed.
Her pleading eyes I couldn't ignor,
There's always room for one more.

There is a new face on the docks today,
Clean, but hungry, to our dismay.
I stroked her head, her body rippled.
When she got up I saw she was crippled.
She started to go, but fell to the floor,
There's always room for one more.

There's that poor doggy out in the rain,
I've tried to entice him time and again.
One ear's lopsided, the other's been torn.
Blind in one eye, lost and forlorn.
He's coming in now, so I'll open the door, There's always room for one more.

These stories are true.
As I've said before,
There's always room for one more.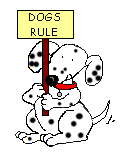 SAM'S ZODIAC SIGN



Sam's zodiac sign is CANCER.

Cancer is the home sign of the zodiac. Cancer dogs love their homes and family more than anything. They would just love to sit in their homes and never leave. Just try to get them out of the house for a walk. Travelers they aren't!

If you're looking for a pet for children, you've come across the right sign. Cancer dogs love children and babies. In fact, they will mother anything or anyone they can. Get them lots of toys, they love to play and they love to cuddle. They will cuddle pillows, comforters and especially you!!

If you like independent animals, you better get an aquarius or a gemini. These guys wont let you go into another room without following you. "Velcro pet" comes to mind. They love to eat, especially treats. If you give them too much, they will become round and fat. They are collectors. If you have to throw out any of their toys, don't let them see you.





SAM'S PAGE

IN MEMORIUM
July 25, 1995 to April 12, 2004


We, at the Aleksander House love pets and dedicate this entire page to them. I would like to introduce our mascot, Lady Samantha Golden Love. She is the sweetest, most gentle and loving Golden Retriever you'ld ever want to meet!! If ever you have occasion to visit the Aleksander House, Samantha will greet you with a wagging tail and wide grin. She loves people. In fact, she loves everything and every body. She's a very happy dog. If you bring your dog with you (which we hope you will), Sam will be more than happy to take her or him for a friendly sniff around the back yard.



Samantha loves to play.


She's very fond of other dogs, cats and children. Here she is playing with my granddaughter, Kira. Kira calls Sam "Mantha". She pulls Sam's tail, jumps on her back and chases her all over. Sam doesn't seem to mind. She just licks Kira in the face. They are so cute together!!!





Grown-up Lady Samantha was 7 years old in July, 2002.
Sam has a cowlick on her head. It is very cute!!
It's one of the reasons I picked her out of a litter of ten puppies!




DOGGIE FRIENDS AND VISITORS




Sam has a lot of doggie friends in and around the neighborhood. Some of them live in bed and breakfasts, like she does. She also has a lot of doggie visitors who come to stay in our bed and breakfast.I take pictures of them or they are sent to us by loving pet owners. Sam wanted me to put some of the pictures on her page, so here they are.

A FRIEND



This is Cindy. Cindy lives just a few blocks from us in a huge mansion which has been converted into a bed and breakfast. She is referred to as The Samuel Culbertson Mansion House Princess and has the following duties to perform: To be cute, lovable and entertaining and will disappear when required. She also dusts the baseboards without being told and discourages possums from bothering the house-finches in the garden. She is a Pomeranian (Blueblood) X Teddy Bear, born Cinderella Dawn in April of 1994. She loves beer, scotch & soda. Her favorite foods are: corn on the cob and Westphalian ham. She has her own web page, like Sam.

A FRIEND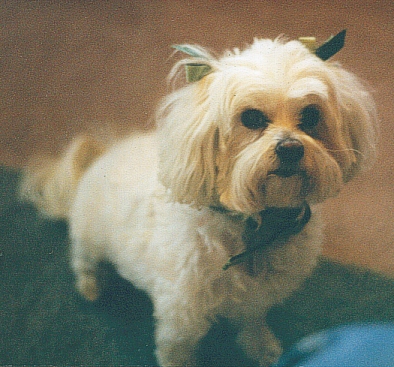 This is Cher. Cher lives in a beautiful, yellow Gothic mansion bed and breakfast. Although she greets all the guests when they arrive, she's getting a little on in years and has slowed down a bit. Sam has visited Cher's home, but Cher has never been to hers. Cher is a cheerful, gentle little puffball who likes strangers and other animals. Like most Bichon Frises, she is active, alert, curious and highly trainable.


A VISITOR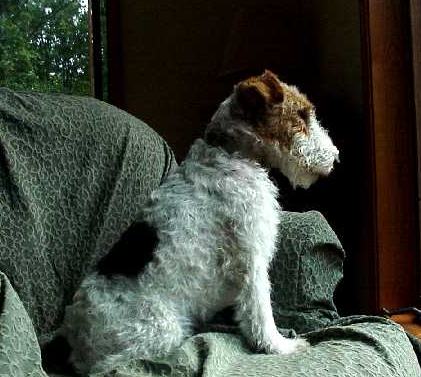 This little wire-haired Fox Terrier visited us during a dog show held at the Kentucky Fair Grounds. We can't remember is name, but we do remember that he was entered in a couple of competitions and came out with a blue ribbon. He was adorable!

POEMS FOR SAM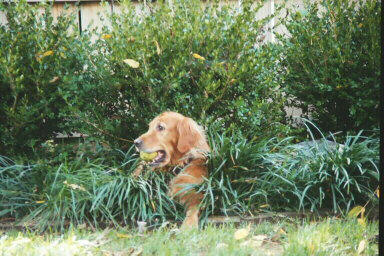 Samantha has the cutest
per-son-al-i-ty.
She takes her ball and lies in
the Li-ri-o-pe *(see picture above).

She wallows in the cool green leaves
and buries her furry nose.
Then burrows underneathe her ball
and grabs it with her toes.

She rolls on it and licks it
and tosses it up high.
Then quickly jumps up in the air
and catches it on the fly.

She's such a clever acrobat.
She's smart, she's cute, she's funny.
For me there is no other dog
for any amount of money!!